OPENING TIMES
1st April 2021 to 31st May 2021 (Spring)
Thursday 10am to 6pm
1st,8th,15th,22nd,29th,6th,13th,20th,27th
Sundays 10am – 2pm
4th,11th,18th,25th,2nd,9th,16th,23rd,30th
1st June 2021 to 31st August 2021 (Summer)
Thursdays 10am to 8pm
3rd,10th,17th,24th,1st,8th,15th,22nd,29th,5th,12th,19th,26th
Sundays 10am to 2pm
6th,13th,20th,27th,4th,11th,18th,25th,1st,8th,15th,22nd,29th
1st September 2021 to 31st October 2021 (Autumn)
Thursdays 10am to 6pm
2nd,9th,16th,23rd,30th,7th,14th,21st,28th
Sundays 10am to 2pm
5th,12th,19th,26th,3rd,10th,17th,24th,31st
1st November 2021 to 31st January 2022 (Winter)
Sundays 10am to 2pm
7th,14th,21st,28th,5th,12th,19th,26th,2nd,9th,16th,23rd,30th
 We look forward to seeing everyone then
In the meantime stay safe 
Who you can shoot with:
 Either 6 people or 2 Households are allowed
How to Pay:
Please use contactless.
Cash can be accepted, but please give exact money as we do not wish to handle change.
Facilities:
The bathroom will still be available to customers, you will access it from the back door. It will be signposted.
Hot and cold drinks will be available to take away from the vicinity of the clubhouse.
Booking:
There is now no need to book, however be mindful of the government guidance on groups and 'bubbles' etc.
Teams will go out every 10 minutes from 10am.
50 bird sporting only available but you can book a second slot (minimum 60 minutes after your first slot) if you wish to shoot more than one round.
Walk- ins are accepted, but you may have to wait to be allocated a slot.
If the ground is busy we may ask you to wait in your car.
Please be ready to enter the ground to begin your round when your name is called. Punctuality will keep the flow and avoid backlog.
Safety Measures for Staff and Customers:
Your safety and ours is a priority. Here are the measures we ask you follow:
One way system in the grounds. Start at stand 1, finish at stand 8, and do not double back. You will enter the woods from the carpark, and exit at the lower gate. Signs will be posted.
Please provide your own PPE in particular gloves to handle the button releases ( we have a small stock of medical gloves for those that need them )
Alcohol hand gel will be available.
Please heed any instruction given by staff members. This may include any unforeseen delays which are out of our control, e.g. trap difficulties. Please bear with us during this time, it is all new to us too.
We will also place antibacterial wipes on some of the stands, and as a minimum will send out a staff member periodically to wipe the equipment on the stands.
Please maintain the 2m distance as per government guidelines at all times.
Please dispose of gloves, wipes etc. in the bins provided.
Please also be aware that during this difficult time anyone breaking the guideline rules outlined above will be asked to leave the ground for the safety of our staff and other customers.
The team very much looks forward to greeting you SOON
STAY SAFE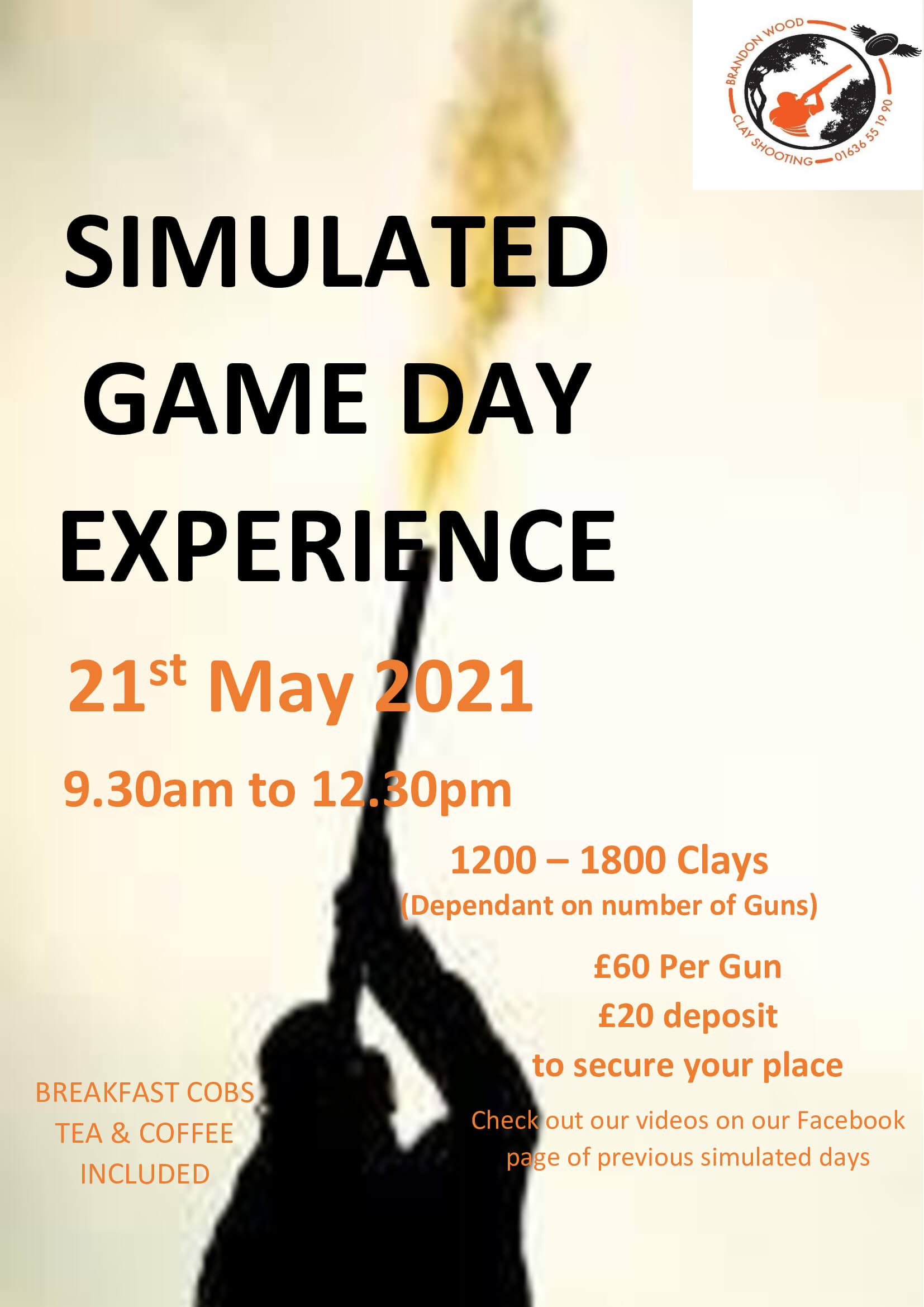 Brandon Wood Clay Shooting
Set in 30 acres of woodland near Newark in Nottinghamshire, Brandon Wood Clay Shooting is a simulated game shooting ground with an on-site instructor during opening hours. We offer practice, tuition and corporate entertainment from our experienced instructor Phil Thomas and owner Mark Crane.
Our Sporting Round has 50 – 100 targets, 8 stands and 16 traps which are constantly varied so you will get something new every week. Our 20, 30 and 90 feet tall towers and two grouse butts give a challenging days shoot. Take yourself through the Sporting Round or join us for our Simulated Game days held throughout the summer.
Start the day with a visit to the club house for a bacon roll and coffee to set you on your way. Cartridges are available to purchase from the clubhouse.
SHOOTING LESSONS
Expert tuition with Phil Thomas
Contact Us
01636 551990 or 07506 206096
Visit Us
Gorse Lane
Brandon Road
Stubton
Lincolnshire
NG23 5DA
Get in touch to book an event or for more information.
Brandon Wood Clay Shooting